Strasburg News
Local Information
---
Data retrieved from Strasburg New papers printed 1918 and earlier. Because of the conditions of the papers, some errors in this information may exist.
---
Feb. 7, 1918

Strasburg's Oldest Citizen Passes Away

John Frederick Everly was born on April 17, 1830 and died on February 3, 1918. He had attained the venerable age of 87 years 9 months and 17 days. With the exception of the four years of the Civil War and the two years immediately following, when he lived in Edinburg he spent his entire life in the house in which he was born. Being the second child and oldest son in a large family of children, he started his life's business at the early age of eleven years learning to be a tailor under the tutelage of his father. He could make a good coat when he was fourteen, and he plied his trade up to within a few weeks of his death. He was the best informed man as to the history of his community in town, was well read and took a lively interest in history, both of the past and in the making. He loved to discuss topics of current interest and since his information was varied and his judgment was sound, and he always stood uncompromisingly on the side of right, his shop was long a gathering place for his friends, who all loved him for the sincerity of his convictions and the consistency of his life. Apr. 4, 1861 he married Miss Susan Catherine Ludwig. A few days after, the war broke out. He answered the call of his state and served throughout the war as a member of Co. K. 33rd Virginia Volunteers, in which he was a second lieutenant. He was twice wounded and twice captured, the first time at the old Heater home near Middletown after which he was confined in Fort Delaware for three months until exchanged. He was captured the second time in a hospital in Richmond when that city fell before Grant's army. It will be recalled that the 33rd regiment was a port of the famous Stonewall Brigade. several years ago Mr. Everly received a medal which has an interesting history. During the Civil War a number of these medals were struck by admirers of this famous brigade in France and shipped to this country in a blockade runner. The ship was sunk and not raised for a long time. The medals were stored in an old warehouse in Mobile and for a long time forgotten. Finally they were discovered and distributed to the men for who they were intended. One one side of the is the head of Jackson with the with the dates of his birth and death; on the other, a roster of the battles in which the Stonewall Brigade took part. For the two years immediately following the war Mr. Everly lived in Edinburg; then he returned to Strasburg. For sixty years he was a consistent member of the Methodist Church. He loved music and always sang in his church choir. He also took an active part in the formation of several local brass bands. For many years he was a member of the board which canvasses election returns in Shenandoah County. Besides his wife, three children survive him; Mrs. L. Dice Bell and J. Oliver, of Strasburg and Marion, of Mt. Jackson; and there are eight living grandchildren. Two children went before him; Mrs. Cooper Schmitt, who died several years ago at her home in Knoxville, Tenn., and George F., who died eighteen years ago at his home here. The late John Crawford Bell was on of his grandchildren. Two half sisters, Mrs. Charles Pollard and Miss Lucy Everly and four half brothers; George, of Baltimore, William, of Middletown, Samuel, in Missouri, and Amos Funk, of Front Royal, also survive. Another half sister, Miss Lizzie Everly, died this morning just four days after Mr. Everly's death. Funeral Service were conducted Wednesday, February 6th, at 2 p.m., from the Methodist Church, by his pastor, Rev. R. C. Meeks, assisted by the Rev. J. D. Hamaker. The body was laid to rest in Riverview Cemetery. The business of the town paid an unusual tribute to his memory by closing their places of business from two to three o'clock, the hour of the funeral.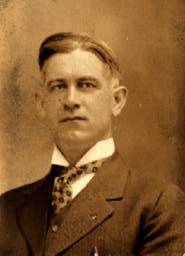 Rev. R. C. Meeks
---

Miss Elizabeth Everly
Dies at Home Here February 7, 1918 Strasburg News
Miss Camolithe Elizabeth Eberly, a half sister of John F. Everly who died Saturday, died this morning. She had been in ill health for some time past. This morning her sister, Miss Lucy, found that she had expired several hours previous. She was a daughter of the late Philip F. and Nancy Reger Everly, was born July 20, 1839 and was 78 years, 6 months and 18 days old.
Many years ago she joined the Christian Church of which church she remained a consistent member until her death. during the Civil War, she was active and devoted in the care of sick and wounded soldiers of whom many were quartered here at different times. She was born in Strasburg and spent all her life here in the families of her father and her brother in law, Charles F. Pollard.
Surviving here are two sisters, Mrs. Charles F. Pollard and Miss Lucy Everly, and four brothers, George of Baltimore, Samuel in Missouri, William of Middletown, and Amos Funk of Front Royal.
Funeral services will be held Saturday at 2:30 o'clock p. m. from the Christian Church, conducted by her pastor, the Rev. J. D. Hamaker.
---
Mrs. John Lake

Dead 1917

Mrs. John F. Lake, who lived on what is known as the Mud Lane road in the East End of Strasburg, died on Saturday evening of a tubercular trouble, after a lingering illness of several months duration. She is survived by her husband and four small children. The deceased was about 37 years old. Before marriage she was a Miss Plaugher, and is a sister of George, Frank, and Thomas Plaugher of near Strasburg.
Funeral services were held from here late residence Monday afternoon at 2:30 o'clock and internment was in Riverview Cemetery. Rev. R. C. Meeks was to have conducted the services, but sickness prevented. Presiding Elder D. L. Blakemore of Winchester, who was in Strasburg at the time, volunteered and conducted the services.
---
Candidates to Be Here

1917

The Committee of Arrangements for the great Confederate Re-Union at Fishers Hill on Saturday, August 4, 1917 has been exceedingly busy the past week arranging final details for this grand event.
Besides the attractions already announced in previous editions of this paper, Major C. M. Borum announced this morning that Westmoreland Davis on of the Democratic candidates for the gubernatorial nomination, had definitely promised to be there, and make an address. It is also considered practically certain that the other two Democratic candidates, John Garland Pollard and J. Taylor Ellyson, will be present, although the committee has not yet received a definite acceptance of their invitation.
Coming only three days before the Democratic primary, the Re-Union is an ideal field for personal work by the three candidates. As a vast majority of the voters of this section are assembled together on this day, it is scarcely too much to say that the candidate who creates the impression that he is the most competent man for the job is the candidate who will get a majority of the votes in Davis District and Shenandoah County.
In regard to special trains, Southern Railway will have on sale at Washington, Front Royal, Harrisonburg, and intermediate points, reduced round trip fare tickets August 3 and 4 to Fishers Hill, Va., and return, and will operate special trains from Manassas, Harrisonburg, and intermediate stations. Southern Railway agents will cheerfully give detailed information.
---
1918 WANTED HORSES AND MULES

The undersigned will be at Kline's Livery in Strasburg on Saturday, February 9th, to buy some good horses and mules. Bring your stock in. Thomas I. Marshall
---
Ran Auto Without Any Gasoline Tank

If Mr. Lawson Armetrout, the poplar young drug clerk at Boyd's drug store, can perfect an experience he had last night, he will make fame and money for himself and will revolutionize the automobile business throughout the world. He managed to operate an automobile entirely without gasoline for a distance of five miles, up hill and down, and, in fact, when he stopped he did not even have his gasoline tank in his car. He took Mr. Charles Affleck to Martinsburg last night and was returning alone. About two miles from town his car stopped suddenly, and upon investigation he found that his gasoline tank had been lost.

While he was figuring just what to do to get to Winchester, Messrs. William Keating, Jr., and Paul Bromley, of this city drove up. They had Mr. Armetrout's tank with them and had found it in the pike five miles down the road. Mr. Armentrout had, therefore, run the entire distance of five miles without any tank in his car. This was some performance!--Winchester Star.
---
Richard C. Shacklett
Dies at Age of 78

In the death of Richard Cook Shacklett Strasburg lost on of here oldest and most respected citizens. He had lived here during the declining years of his life, making his home with his daughter, Mrs. Harry Frye, and his son Hugh. Mr. Shacklett was born at Pittsburgh on June 4 1839 and died February 2, 1918, having reached the age of 78 years, 7 months and twenty eight days.

Mr. Shacklett spent his childhood in Philadelphia and his early manhood in that city and Pittsburgh. He moved to Virginia about the time of the outbreak of the Civil War and entered the army of the Confederacy. He served throughout the war and was a courier attached to Gen. Lee's personal staff. Lee always spoke of him as "My young friend."

During the war Mr. Shacklett married Miss Sarah Elizabeth Sumption of Front Royal. Of this union there were born six children, of whom one, Edward, was killed in railway service some years ago. The surviving children are: Mrs. Carrie Goods, Mrs. George Ramey and Mrs. Harry Frye, all of Washington; Isaac, of Manassas, and Hugh of Strasburg. Mr. Shacklett was the last of a family of six brothers and sisters.

For a number of years after the war the deceased conducted a mercantile business at Delaplane. Later he served the Southern Railway as agent at that place and at Thoroughfare, until the infirmities of age compelled him to retire. He was conscientious and thorough in his work, upright in his dealings with his fellowmen, and gentle and kindly toward all. On December 7, 1913 he united with the Christian Church and was a consistent member to his death. Funeral Services were conducted from the Christian Church on Tuesday the fifth instant, in charge of his pastor, Rev. J. D. Hamaker. Interment was in Riverview Cemetery by the side of his wife, who died several years ago. Because of the wreck on the Southern near Linden on that day, his children who live at a distance were prevented from arriving in time for the funeral.
---
Mrs. Uriah Brill
Dies At Her Home At Zepp

Mrs. Lola Brill, wife of Uriah Brill died at her home at Zepp, Va. at the hour of 3 o'clock Saturday morning, death being due to rheumatism and heart failure. The deceased had reached the age of 54 years, 5 months and 20 days.

Mrs. Brill leaves as near relatives to mourn her death, two daughters, Mrs. Cleveland Peer of Van Buren Furnace and Mrs. Dorsey Conner of Washington; two sisters, Mrs. Perry Brill and Mrs. Benjamin Strosnider of Zepp; and two brothers, Ralph and Moses Orndorff of Van Buren Furnace. Funeral services were conducted Pin Oak Grove at 3 p. m. Sunday by Rev. D. H. Rhodes and interment was at Sugar Hill graveyard. Mrs. Brill's father, James H. Orndorff, preceded here to the grave, having died on January 28 last, and to whom Mrs. Brill gave hours of attention during his illness.
---
Mrs. Mary C. Kern

Dies of Heart Failure, 1917

Mrs. Mary Catherine Kern, wife of P. B. Kern and daughter of Abraham Barb, died at her home about four miles southwest of Strasburg on Saturday afternoon about 2:00 from heart failure. She had been in falling health for several months, but only became seriously ill about 24 hours before she died. Mrs. Kern was 70 years 4 months, and 14 days old, having been born March 16, 1847.
The deceased was baptized in infancy, and in early life was confirmed in St. paul's Lutheran Church in Strasburg, but worshipped for many years regularly and faithfully with St. Stephen's congregation near her home. she was married on July 29, 1880, to Mr. Kern. Two sons and one daughter were born to them. These, together with here husband, one brother, Rev. John H. Barb, D. D. of Jersey Shore, Pa., one sister living in California, two half brothers, one half sister and many other relatives survive. These and a host of friends will greatly miss her gentle manners, kind words, and sympathetic love.
Funeral services were held on Monday at 10 o'clock a. m. which were attended by a large assembling, of relatives and friends. A short service was held at the house before the body was conveyed to St. Stephen's Church, where a sermon was preached by Rev. W. L. Darr, (her pastor, Rev. L. L. Huffman, being away) after which all that was mortal of this affectionate wife, loving mother, kind relative, neighbor and friend was laid to rest in the cemetery near the church. The rich profusion of floral tributes in beautiful designs attested the loving esteem in which she was held.
---
Jno. R. Brubeck

Dead, 1917

Joseph R. Brubeck, who lived with his two sisters, Misses Maggie and Regina Brubeck, at the foot of what is known as the Brubeck hill, between Fishers Hill and Topnot, died on Friday morning at 11 o'clock of the infirmities of old age and a complication of diseases.
While the deceased had been failing for some months past, he had only been confined to his bed for the past six weeks. He was a shoemaker by trade, and worked at the shop in his home almost until the last. Mr. Brubeck was unmarried. He was 75 years, three months, and seven days old.
The deceased had been a cripple most of his life, having had one of his limbs cut off by an old-style horse-power thrashing machine when he was only 14 or 15 years old. The accident unfitted him for active work, so he learned to be a cobbler. He was a good Christian man, and had the confidence and esteem of the entire community.
Funeral services were held in St. Stephen's Lutheran church Sunday morning at 10 o'clock, conducted by Rev. G. E. Metger of the Reformed Church. The deceased had been a member of the Reformed Church since early manhood. Burial was in the cemetery adjoining the church.
---
Mrs. Mary Fisher Dead, September 6, 1917 Strasburg News
Mrs. Mary E. Fisher, widow of the late Thomas H. Fisher, who died 18 months ago, died at her home in Baltimore on Thursday of last week from heart trouble. She was 71 years, 7 months, and 18 days old. The remains were brought to the home of her daughter, Mrs. Fannie Burner, to Strasburg, and funeral services were held on sunday afternoon at 2:30 o'clock, conducted by Rev. R. C. Meeks, assisted by Rev. J. D. Hamaker, after which the remains were laid to rest in Riverview Cemetery beside the body of her late husband.
Mr. and Mrs. Fisher lived at Happy Creek for many years, but moved to Baltimore about 18 years ago, where they have since resided. she had been ill 18 months. She is survived by six sons and six daughters, viz. John, James, Scott, Turner, and George, of Baltimore; Cass, of Charles Town, W.VA.; Mrs. Fannie Burner, Strasburg; Mrs. Lizzie Rouzee, Charles Town; and Mrs. Cora Keeney, Mrs. Bessie Kaufus, Mrs. Minnie Ewrey, and Mrs. Icy Best, all of Baltimore. Forty-eight grand-children also survive.
---
Mrs. Clevinger Dead, September 6, 1917 Strasburg News
Christina Baker Clevinger, wife of the late J. H. Clevinger, died after a long and lingering illness at her home at Welltown, Fredrick County, Va., on Saturday. She was the daughter of Jacob and Elizabeth Baker. Her age was about 79 years, she having been born in Shenandoah County in 1847.
The deceased leaves no children of her own, but an adopted daughter, Mrs. J. C. Chamberlain, with whom she made her home and found shelter, care, and love. she was the last member of her immediate family, but leaves a number of nephews, nieces, and friends who will feel the loss of a true and faithful relative and friend.
she was baptized by Elder J. A. Cougill, of sainted memory, some 50 years ago at Strasburg, and has remained a faithful and consistent member of the Christian Church and died in the hop of everlasting life. Funeral services were conducted by Rev. J. D. Hamaker of Galilee Christian Church on Monday morning at 11 o'clock.
---
The Paralysis Situation, August 2, 1917

The infantile paralysis situation in Rockingham County and Harrisonburg has grown to be so alarming that the Board of Health of Shenandoah County has put into effect a county wide quarantine against all points in Rockingham and page Counties and the City of Harrisonburg, to be effective until further notice. The effect of the quarantine is that no children under the age of 16 years will be permitted to come into Shenandoah County from either of the above infected districts. If any children known to reside, or to have been stopping, in Rockingham or Page Counties come into the County, it is the duty of the person knowing this to be the case to report the fact, to some officer or physician; the child or children will be immediately quarantined until all danger of infection is past, which is three weeks.
About 30 Cases Thus Far
Two new cases of the disease were reported in Rockingham County yesterday, one in Timberville and the other at Broadway. There are now two well developed cases in Harrisonburg and eighteen in the county. There have been seven deaths from the disease in Rockingham County, six children and one young man about 22 years old. The disease first made its appearance in the vicinity of Elkton, in East Rockingham County, and a number of the most reputable physicians of the county agreed in the opinion that the first case can be attributed to a package of second hand clothing received some months ago from New York, where the disease killed and maimed thousands of children last summer.
There are also several cases in page County and "a number" in Rappahannock.
Re-Unions and Gatherings Postponed.
While it is certain that there is not a case of infantile paralysis in Shenandoah County, the serious nature of the epidemic is brought home to us by the cancellation of both the Fisher's Hill and Neff-Rice reunions, of Confederate Veterans, the News has just learned over the telephone that the Woodstock Chanutauqua has been postponed indefinitely. The News is in receipt of the following communication.
Editor News -- On account of the prevalence of infantile paralysis in several section of Rockingham County, the Neff - Rice Camp has recalled the Re-Union which was fixed to be held at Manor's Crossing on the 10th day of August, 1917. There will be no Re-Union this year. Yours truly, J. W. Clinedlnst, Commander Neff - Rice Camp.
Stover Camp, Confederate Veterans of this place has taken similar action to the above with reference to the Fishers Hill Re-Union on August 4, as will be seen in another column of this paper.
Editor News; -- At the request of the Board of Health of Edinburg, Va., the Shenandoah County Sunday School convention, which was to meet in the in the Disciples Church, Edinburg, on Tuesday, august 7, is postponed until some later date. This action was requested because of the prevalence of infantile paralysis in some parts of the Valley. Benj. K. Hay, President.
No Sunday Schools in Town.
In addition to the above cancellations the Town Board of Health has decided that there will be less danger of infection if all gatherings where children are accustomed to congregate are discontinued for the present and accordingly, there will be no sunday School held in any of the churches of the town of Strasburg until further notice.
Children Barred From Picture Shows.
The Town Board of Health has also ordered that no child under the age of 16 years shall attend any moving picture show or other public meeting in the town, to be effective until further notice. It is the opinion of the local authorities that, as there is no case of infantile paralysis in Shenandoah county, it is useless to become unduly alarmed over the disease but it is a wise parent who keeps the children at home as much as possible. Crows should be avoided. Nine hundred and ninety - nine children could go to Sunday School, picnics, etc., and would continue in perfect health, but during an epidemic of this kind, it is more than likely that the thousandth one would develop the dread disease.
So far as is known, there are no cases in either Frederick or Warren Counties, and both these counties have taken practically the same action as Shenandoah in quarantining against Rockingham and Page.
State Board of Health Issues Warning
The State Board of Health today issued a bulletin of warning, and called upon physicians to report immediately, as required by law, all cases of infantile paralysis. Commissioner Williams said; "Physicians owe it to the public and to the law to report immediately all cases and immediately establish quarantine. Evasion of this law is criminal and will be punished promptly and effectively. All cases must be treated as though they were of the greatest danger, for only in this way can proper precautions be taken.
"The situation has not yet assumed proportions that make it necessary to give public warning against public travel in all parts of the State, but it is serious enough to justify us in saying that children should not enter or leave Rockingham county. It may be necessary to add Page and Rappahannock to this list. If so, public notice will be given.
"The best advice we can give to parents in the infected districts is to keep small children from contact with other children, and, as far as possible, from contact with all persons. The more carefully this is done the less chance there is that the child will become infected.?
Symptoms of Paralysis
Dr. Ne. E. Wayson of the U. S. Public Heath Service, who was in Harrisonburg Monday, had the following to say on infantile paralysis; "Infantile paralysis is a contagious disease which most often affects children but frequently affects adults. When adults are stricken they usually have the most severe form of the disease, ending frequently in death.
...........
---
Topnot News, August 2, 1917

Leonard Russell has threshed his bumper crop.
Mrssrs., Bly and Mayhew have moved to Frederick county, where they have a number of large crops to thresh.
John Hamman has been slowly improving for several days. We hope he will soon be out again.
J. R. Brubeck continues about the same.
On Tuesday, July 31, Prof. Shoemaker, Division superintendent of Schools and E. F. Ramey, Trustee, came out and picked the location for the new school building, both agreeing that the location selected is the most suitable for school purposes of any in the district if not in the county. the patrons did not lose any time getting down to work, for on Wednesday, yesterday, there were about 30 men on the job. When the noon hour was reached, the good news came that dinner was waiting in the grove nearby; and, when about 60 had eaten of all the good things of the season, there still remained enough for supper. This will give some idea of how much the people are interested in this most worthy cause.
---
---
The master lists for the draft have been received by the Shenandoah County Exemption Board from Richmond. The Board has been busy all this week checking over the numbers from 1 to 1484 inclusive, which apply to this county, and this work has just about been completed. Just as soon as all the numbers which apply to this county have been checked up with the registration cards, the registrants who are in the first draft will be notified when and where to appear for examination.
Local young men whose names are wee up in the appended list may expect to receive notification to appear for examination within a very few days. While the list below is not the final official list. The News is assured by County Clerk Wunder that it is practically correct. All that remains to be done to make it the official list is to check it up with the registration cards, which work had not been completed at the time we go to press.
After a man is notified he must report for examination of the day specified. Application for exemption on grounds other than occupational must be filed within seven days after the call is issued, and will be passed upon at once by the local boards. The question of dependents will be passed upon by the local boards, with the right of appeal to the district board.
The names of the 324 young men in this county who will be called upon to report for examination on the first draft of 687,000 men are given below numbered in chronological order and the draft number of the registrant follows his mane.

1. Stahler Miller, Mt. Jackson, 258
2. Charles S. Holler, Edinburg, 458
3. Fred H. Orndorff, Strasburg, 1436
4. Charles E. Heishman, Edith, 854
5. Albert w. Miller, Maurertown, 1005
6. Luther L. Cline, Toms Brook, 1455
7. Frank C. Miller, Toms Brook, 783
8. Carter D. Brill, Zepp, 1117
9. Elmer Tamkin, Detrick, 837
10. H. V. Messick, Macanie, 337
11. J. C. Andrick, Liberty Furnace, 676
12. Elmer Shown, Mt. Jackson, 275
13. C. E. Hollingsworth, Edinburg, 509
14. H. L. Bell, Strasburg, 1185
15. J. C. Andrick, Liberty Furnace, 676
16. Dorris A. Kibler, Woodstock, 945
17. G. E. Russell, Edinburg, 596
18. Roy Millhouse, Strasburg, 1267
19. Wm. H. T. Pence, Edinburg, 536
20. Ralph S. Sibert, Edinburg, 584
21. Willard E. Getz, Moore's Store, 126
22. Charles A. Horan, Strasburg, 1237
23. Oliver T. Miller, Toms Brook, 784
24. Lock R. Ward, Woodstock, 755
25. Emmett G. Tucker, Quicksburg, 1369
26. John E. Rogers, Strasburg, 1369
27. Charles D. Clark, Edinburg, 616
28. A. L. Walker, Orkney Springs, 373
29. Henry Lee Miller, Strasburg, 1266
30. F. C. Hockman, Toms Brook, 775
31. Sam'l G. Coe, Edinburg, 486
32. C. A. Bowers, Woodstock, 692
33. C. M. Sherman, Woodstock, 600
34. Sam'l Dinges, Detrick, 810
35. Geo. W. Hisey, Woodstock, 507
36. W. W. Rankin (col), Mt. Jack., 309
37. Albert Miller, Conicville, 437
38. Jas. O.. Williams, Strasburg, 1325
39. Jno. N. Stoper, Edinburg, 604
40. Jno. Moton, New Market, 43
41. B. H. Middleton, Strasburg, 1264
42. Harry Clary, Maurertown, 1066
43. Clarence A. Henry, Woodstock, 924
44. Jas. K. Hambleton, Conicville, 420
45. R. Wagner, Maurertown
46. J. C. Shackelford, Toms Brook, 1178
47. Wm. M. Jennings, Edinburg, 514
48. E. C. Lindamood, Conicville, 433
49. Sam'l Wolfson, Strasburg, 1329
50. M. W. Dorsey, New Market, 10
51. Edward Markley, Woodstock, 1045
53. E. B. Wolverton, Strasburg, 1331
54. Ray B. Coffman, Edinburg, 487
55. Floyd C. Ridings, Strasburg, 1282
56. Wm. M. White, Strasburg, 1323
57. Walter E. Burner, Detrick, 797
58. Randolph Long, Moore's Store, 140
59. T. Himelright, Strasburg, 1236
60. Roy Lindamood, Mt. Jackson, 432
61. Julius S. Good, New Market, 18
62. Byrd A. Mumaw, Col. Furnace, 652
63. Roy L. Hepner, Woodstock, 927
64. Omer F. Snarr, Toms Brook, 1484
65. Raymond Ryman, Maurertown, 739
66. Ira M. Shrum, Edinburg, 601
67. Roy P. Updike, Strasburg, 1322
68. M. S. Rudolph, Star Tannery, 1156
60. Marion Lee Pifer, Woodstock, 1103
70. Ed. S. Holtzman, Wheatfield, 1395
71. F. L. Wakeman, Edinburg, 606
72. Wm. H. Allen, Mt. Jackson, 182
73. Wm. Jos. Jahrling, Edinburg, 513
74. Jno. F. Reedy, New Market, 46
75. Chas. W. Wisman, Woodstock, 1020
76. H. C. Orndorff, Maurertown, 1099
77. C. M. Funkhouser, Mt. Jack. 223
78. L. F. Rosenberger, Strasburg, 1441
79. C. E. Branner, New Market, 117
80. Sam'l L. Spiggle, Lantz Mill, 602
81. Andrew Paul Miller, Jerome, 390
82. Earl W. Fadeley, Quicksburg, 75
83. Carl S. Gill, Woodstock, 709
84. A. E. Hines, Toms Brook, 772
85. Jesse W. Kronk, Toms Brook, 1456
86. Paul J. Hottel, Woodstock, 721
87. Wm. H. Baker, Toms Brook, 1419
88. Charles F. Rau, Toms Brook, 786
89. Glen J. Rickard, Strasburg, 1476
90. Jno C. Silvius, Quicksburg, 280
91. Geo. C. Shank, Strasburg, 1292
92. Wm. Paxton, Woodstock, 972
93. Ralph R. Ruby, Woodstock, 983
94. Luther L. Ward, Woodstock, 757
95. Loy W. Miller, Woodstock, 966
96. Abram R. Rinker, St. David's, 868
97. Elbert L. Keller, Macanie, 332
98. Wm. D. Dellinger, Jerome, 379
99. Perry R. Reynard, Edinburg, 542
100. Tho. Boehm, Walkers Chapel, 194
101. Walter L. Spitler, Edith, 874
102. Jos. C. Shipe, Edinburg, 552
103. Howard S. Sonner, Strasburg, 1300
104. Jacob C. Wilson, Mt. Jackson, 298
105. Lester Wolverton, Edinburg, 675
106. Geo. F. Sine, Strasburg, 1294
107. Bush Strosnider, Zepp, 1148
108. D. R. Edmondson, Strasburg, 1354
109. Lloyd F. Sager, Mt. Jackson, 343
110. Roy M. Rowzee, Edinburg, 982
111. Noah C. Lutz, Woodstock, 726
112. Jasper Funkhouser, New Market, 15
113. Harry M. Funk, Woodstock, 905
114. C. M. Holtzman, Woodstock, 933
115. Wm. C. Rudolph, Strasburg, 1288
116. P. E. Dellinger, Mt. Jackson, 542
117. C. W. Barb. Shen. Al. Springs. 355
118. C. E. Moyer, Edinburg, 530
119. Chas. Cullers, Seven Fountains, 809
120. Clarence C. Brill, Zepp, 1114
121. Charles E. Miller, Strasburg, 1170
122. C. H. Larkin, Colum. Furnace, 645
123. Walter W. Evans, Mt. Jackson, 218
124. G. B. Fadely, Colum. Furnace, 620
125. C. Boles, (col) Strasburg, 1334
126. Otto Sine, Edinburg, 550
127. Wm. E. Cook, Edinburg, 574
128. Neil Kingan, New Market, 31
129. I. F. Middleton, Toms Brook, 1432
130. Charles W. Reedy, Woodstock, 981
131. John O. Kirby, Maurertown, 770
132. Arthur C. Bowers, Woodstock, 882
133. A. D. Bowers, Lib. Furnace, 677
134. E. M. Sherman, Woodstock, 749
135. Barney Eutsminger, Strasburg, 1211
136. Gordon R. Newland, Edinburg, 525
137. C. W. Windle, Leb. Church, 1417
138. H. C. Harding (col) Woodstock, 760
139. Samuel H. Allen, Mt. Jackson, 183
140. James L. Walter, New Market, 56
141. Henry C. Reece, Strasburg, 1276
142. W. J. Burke, Seven Fountains, 792
143. W. H. Calhoun, New Market, 54
144. C. R. Baker, Shen. Al. Springs, 350
145. L. E. Tidler, New Market, 54
146. Alfred T. Ritenour, Carmel, 870
147. W. Rhodes Sibert, Edinburg, 549
148. P. C. Orndorff, V. B. Furnace, 1132
149. Ira Lee Ryman, Mt. Jackson, 440
151. David F. Smoot, Woodstock, 1054
152. John H. Pingley, Strasburg, 1275
153. Wm. A. Golladay, Edinburg, 711
154. F. G. Wolverton, Woodstock, 1022
155. Ed. Loy Clem, St. David's, 841
156. Guy C. Irwin, Colum. Furnace, 638\
157. Lester E. Barton, Woodstock, 1032
158. John W. George, Edinburg, 623
159. John M. Rinker, New Market, 269
160. G. A. Williams, Lib. Furnace, 685
161. Loring Racey, Star Tannery, 1141
162. J.. E. L. Strosnider, Strasburg, 1314
163. John D. Wilkin, Woodstock, 1016
164. George L. Kibler, Quicksburg, 335
165. C. C. Mcllwee, Strasburg, 1430
166. Austin B. Sheetz, Woodstock, 493
167. R. R. Cline, Strasburg, 1358
168. Wm. E. Helsley, Woodstock, 923
169. D. F. Spengler, Strasburg, 1305
170. Earl T. Sager, Mt. Jackson, 341
171. L. S. Sutherland, Woodstock, 1007
172. John T. Miller, Jerome, 391
173. P. P. Pangle, Strasburg, 1366
174. D. W. Baker, Shen. Al. Springs, 353
175. Walter S. Newman, Woodstock, 970
176. Kirby B. Hottel, Edinburg, 637
177. Ralph Barb, Shen. Al. Springs, 360
178. Albert J. Fishel, Strasburg, 1217
179. Horace G. Christian, Edinburg, 571
180. H. L. Coffelt, Edinburg, 488
181. John David Fravel, Woodstock, 704
182. G. V. Dingledine, New Market, 72
183. Chas. H. Shrum, Woodstock, 1053
184. George Barb, Orkney Springs, 356
185. H. B. Whetzel, Mt. Jackson, 112
187. Evan H. Getz, Moore's Store, 128
189. W. L. Coverstone, Dilbeck, 805
190. Clifford D. Estep, New Market, 11
191. Jacob M. Fravel, Woodstock, 900
192. C. Funkhouser, Shen. Al. Sp'gs, 363
193. Arthur E. Roby, Strasburg, 1287
194. Arthur F. Racey, Strasburg, 1142
195. B. F. Calhoun, New Market, 6
196. C. H. Hamman, Mt. Jackson, 327
197. Edward F. Vann, Col. Furnace, 664
198. F. D. Lichliter, Quicksburg, 93
199. Carl B. Baker, Fishers Hill, 1448
200. J. K. Mahikoa, Woodstock, 957
201. Clifton Bauserman, Zepp, 1112
202. H. F. Shamburg, Macanie, 345
203. Albert C. Garrett, Strasburg, 1355
204. Elmer R. Shaver, New Market, 103
205. C. L. Fletcher, Strasburg, 1221
206. John Z. Peter, Maurertown, 1102
207. J. E. Stoneburner, Edinburg, 556
208. M. Shutters, Forestville, 154
209. Harry Ridings, Strasburg, 1281
210. G. W. Salyards, New Market, 51
211. O. L. Helsley, Woodstock, 717
212. Carl M. Walker, Woodstock, 1057
213. Carl B. Maphis, Strasburg, 1256
214. Harry F. Conner, Maurertown, 1073
215. William S. Kerns, New Market, 30
216. Angelo Bowman, Nt. Jackson, 199
217. Ira M. Miller, Jerome, 388
218. Harry Gochenour, Strasburg, 1423
219. G. P., Hockman, Maurertown, 773
220. Lloyd H. Wilkins, Edinburg, 608
221. H. F. Shrum, Maurertown, 1179
222. C. M. Dellinger, Conicville, 406
223. James Elmer Lutz, Edinburg, 519
224. Russell T. Hupp, New Market, 25
225. Solomon S. Miller, Jerome, 392
226. Emory F. Bushong, Woodstock, 889
227. Rufus T. Miller, Jerome, 383
228. R. B. Maphis, Toms Brook, 1166
229. Thomas J. Hite, Edinburg, 588
230. L. A. Habron, St. David's 856
231. Warren B. French, Woodstock, 705
232. Joseph F. Smith, Strasburg, 1346
233. Lloyd W. Dellinger, Edinburg, 576
234. Noah S. Kibler, Woodstock, 944
235. Mark A. Garber, New Market, 122
236. H. W. Johnson, Col. Furnace, 642
237. E. L. Hounshell, Woodstock, 939
238. T. S. Funkhouser, Mt. Jackson, 222
239. Roscoe L. Funk, Woodstock, 906
240. Charles H. Boyd, Strasburg, 1337
241. William F. Dalke, Woodstock, 700
242. Arthur J. Lake, Strasburg, 1250
243. William F. Burner, Strasburg, 1195
244. E. E. Williams, Quicksburg, 297
245. C. E. Funkhouser, Macanie, 321
247. Robert H. Funk, Woodstock, 707
248. Harry L. Hamman, Strasburg, 1125
249. Roy O. Smoot, Woodstock, 1002
250. A. N. Whittington, Star T'n'ry, 1151
251. Harry C. Peters, Maurertown, 1101
252. Walter H. Lonas, Macanie, 368
253. Elmer Peters, Woodstock, 974
254. B. W. Fansler, Mt. Jackson, 320
255. James E. Kline, Woodstock, 950
256. Walter M. Henry, Woodstock, 926
257. H. W. Strickler, Woodstock, 1010
258. Charles C. Haun, Woodstock, 919
259. L. G. Mumaw, Col. Furnace, 656
260. Lacey Jenkins, Strasburg, 1339
261. John W. Harman, Detrick, 814
262. H. H. Snarr, Toms Brook, 1175
263. C. C. Coffman, Maurertown, 1070
264. Ed. A. Ryman, Woodstock, 738
265. Harry Maphis, Toms Brook, 1167
266. Joseph F. Miller, Maurertown, 1097
267. James F. Bowman, Strasburg, 1191
268. Ray Hamman, Strasburg, 1234
269. G. W. Middleton, Strasburg, 1360
270. John W. Dinges, Edith, 848
271. Guy C. Brill, Zepp, 1118
272. Harry M. Garber, New Market, 121
273. Richard Foley, Quicksburg, 221
274. Roy R. Reedy, Toms Brook, 1474
275. W. F. Wallace, Wheatfield, 1414
276. E. R. Whitmire, Mt. Jackson, 292
277. C. H. Munch, Seven Fountains, 822
279. H. L. Cavinall, Maurertown 1064
280. Ralph B. Crabill, Strasburg, 1205
281. H. F. Kibler, Maurertown, 1001
282, Samuel D. Rinker, Edinburg, 470
283. Robert A. Allen, Macanie, 312
284. A. R. Ritenour, Strasburg, 1284
285. Franklin L. Kipps, Quicksburg, 90
286. Fred Bauserman, Mt. Jackson, 191
287. Tucker L. Williams, Edinburg, 477
288. Frank Bly, Strasburg, 1187
289. H. G. Rickard, Toms Brook, 1170
290. David F. Smith, Woodstock, 753
291. John Henry Good, Timberville, 130
292. Lawrence E. Marston, Edith, 858
294. W. H. Wunder, Woodstock, 1023
295. C. O. Hansberger, Conicville, 424
296. Charles Walter, Carmel, 840
297. C. Timbers (col), Strasburg, 1347
298. Robert E. Bly, Strasburg, 1188
299. Chas. E. Ross, Edinburg, 657
300. Chas T. Mumaw, Orkney Sp'gs, 175
301. Ralph E. Wolfe, Mt. Jackson, 300
302. Elmer K. Zigler, Mt. Jackson, 278
304. G. Harry Hottel, Strasburg, 1240
305. Wm. I. Newland, Edinburg, 524
306. James R. Gearing, Woodstock, 911
307. Chas. H. Sager, Maurertown, 1172
308. Owen B. Myers, Edinburg, 532
309. Kirby Racey, Star Tannery, 1189
310. Robert F. Dyke, Strasburg, 1214
311. T. G. Lindamood, Mt. Jackson, 336
312. C. W. Dellinger, Mt. Jackson, 212
313. Samuel R. Jenkins, Strasburg, 1357
314. R. M. Rice, New Market, 49
315. Robt. R. L. Day, New Market, 8
316. Robt. C. Fisher, Toms Brook, 1160
317. John C. Bowman, Strasburg, 1192
318. R. Banks (col), Mt. Jackson, 305
319. N. S. Rudolph, Star Tannery, 1143
320. Floyd S. Sweeney, Edinburg, 557
321. G. L. Middleton, Toms Brook, 1433
322. Israel A. Fry, Edinburg, 662
323. Joseph A. Foster, Edinburg, 585
324. Guy F. Jewell, Fishers Hill, 1464.
Strasburg News, August 2, 1917
---
Notice to Public

Yearly toll on the Valley Turnpike will be issued by the Company during the month of August for pleasure wagon travel for the year, September 1, 1917 to September 1, 1918.
C. W. Heater, Director, Valley Turnpike Company.
---
1917

Reformed Church

Rev. G. E. Metger, who has returned from his vacation in Maryland and Virginia, announces services for Sunday as follows: At Fishers Hill in the morning and at Harrisville in the evening.

United Brethren Church

On Sunday, September 2, Sunday school will begin at 9:30 a. m. at Mt. Hebron church and preaching at 10:30 a. m. Preaching service will also be conducted at Toms Brook at 7:30 p. m. Everybody be present.
F. B. Chubb, Pastor.

Methodist Church

On Sunday, September 2, the pastor will preach at 11 a. m. and 7:45 P. m. Sunday school will be held at 9:30 a. m. for all over 16 years of age. Avail yourself of these privileges and enjoy the benefits to be derived therefrom.

August 9, 1917

Convention Postponed

On the authority of Rev. D. H. Rhodes of Toms Brook the News is requested to announce that the Valley District Convention of the Disciples of Christ, which was to have been held August 16-10 in Cedar Creek Church, Zepp, Va., has been postponed to some future time on account of the county quarantine against infantile paralysis.

---

Children Can Now Go To Moving Pictures - September 6, 1917
The quarantine established by the Corporation of the Town of Strasburg and the Town Board of Health against infantile Paralysis has been lifted, and now the children can go to the moving pictures whenever they can beg the necessary price of admission from their parents. This action was taken at the meeting of the Corporation Council Tuesday night, it being the opinion of the members of both Council and Board of Health that as there are no new cases of the disease in nearby towns, that as the paralysis situation throughout the Valley of Virginia shows great improvement, and that as much cooler weather is almost upon us, there is no further necessity for keeping the children housed up or away from public places. For some time the children have been dreaming of the time when they could go to the "movies" again.
The town officials think that the quarantine established by the county which IS STILL IN FULL EFFECT, every road leading out of the county being guarded, is sufficient to protect the youngsters from infection, in the face of the vastly improved conditions stated above. There has not been a single case of infantile paralysis in our town or in this end of shenandoah County, for which our good citizens should thank their luck stars. It is not likely that the county quarantine will be lifted until every case of the disease in nearby counties has been stamped out.

---
WOLFSON TAILOR SHOP OPEN
I take this method of notifying the public that I have taken possession of my brother's tailoring, cleaning, and pressing business, and now have the shop open for business. Patrons will receive the same courteous treatment and good workmanship from me as they always received at the hands of my brother, the late Samuel Wolfson. Your patronage is solicited. Joseph Wolfson
---
January 24, 1918
Two Wrecks Cause Delays On Southern
A serious freight wreck occurred Monday morning on the Southern Railway, at the foot of the Blue Ridge about one mile east of Happy Creek. An arch bar under a loaded coal car broke, with the results of spreading the track and turning the car upside down, and piling three or four cars in a heap of top of and around it. Fortunately, no one was hurt. The track was cleared about five o'clock that afternoon. The train was an extra running west with the following crew; Conductor Chas. Stark, Engineer Charles Dean, Fireman, Milton Lemley, Brakemen, Grover Steadman and David Rutz.
Schedules were all upset. Passenger train No. 24, which leaves here at 7:30 a. m. was sent back from Harrisonburg to the scene of the wreck and picked up the passengers of No. 49, due here at 11:40 a. m. and carried them on through. The eastbound local freight, which should leave here at 8 a. m. did not get away until 2 o'clock the next morning. We have not been able to ascertain what became of the coal which was upset but is was doubtless Hooverized promptly.
The second accident occurred at Riverton the next day, Tuesday, when the caboose of eastbound local freight, No. 262 was derailed and upset, completely clearing the tract. The derailment was caused by ice. The following crew was in charge of the train: Conductor Omar Grant, Engineer Charles Balthis, Fireman Turner Reedy, Brakeman Frank Stover, Fred Sonner, and Lewis Henson. No one was hurt. Brakeman Stover was on the caboose when it left the track, but he jumped and escaped injury.
---
Fire Startles Town During Snow Storm

Tuesday morning, in the midst of what was, perhaps, the most beautiful snow-storm of the winter, those of us who could be reached by the stentorian tones of Ash Bell were startled by an alarm of fire. The falling snow, however, muffled the alarm and in consequence only a small crowd gathered. The kitchen wing of the house occupied (by) Dr. H. M. Duncan was ablaze between the weather boarding and the log frame. Willing hands brought the hose carriage and directed by George Pollard and Arthur Kendall the crowd soon had the fire extinguished. The falling snow, the still air and the snow-covered fire-fighters combined to make striking and beautiful picture. The origin of the fire was unusual. The waste pipe from the bath room comes down on the outside of the end of the wing. Where it enters the ground this pipe had frozen a number of times this winter and had been thawed by means of a small fire built on the ground around the base of the pipe. The doctor had left early on a call and had instructed a boy, who lived in his home to build a fire as had been done before. After building the fire the boy went away to attend to some other duties instead of watching it, as he should. The mounting fire reached the weather boarding, penetrated beneath it, and had gotten quite a start when discovered.
---
Red Men's Festival

The Red Men of Tonawanda Tribe of Strasburg, Va., will hold a big Festival in Strasburg Saturday evening, August 11, 1917. the Strasburg and Toms Brook Brass Bands will be there to enliven the occasion with good music. One half of the proceeds will be donated to the Red Cross work.
Everyone is invited to come and help this worthy cause. Bring your friends. Don't forget the date -- Saturday evening, August 11, 1917.
---

FIVE DOLLARS REWARD

For authentic information of John Funk, who was married and lived at Strasburg with his family at the time of the Revolution. Said to have married a daughter of Peter Stover who founded the town. Where is he buried: What is the inscription on his tombstone? When did he die? Is there Revolutionary service on his or his wife's side?

Mrs. L. B. Duvall, Bonners Ferry, Idaho Box 503
---
R. E. Lee's Birthday Celebrated Locally
The "Peerless Chieftain's" birthday was celebrated by a luncheon given by the local chapters of the Daughters of the Confederate Veterans and the Son of the Veterans, to the Confederate Veterans of the vicinity. The luncheon was given on the afternoon of the 19th in the hall of the Shenando Building.
It was the old veterans' occasion and they were royally and lovingly entertained in honor of the memory of their departed chieftain, whom they all so loved and venerated. To the Sons and Daughters these old veterans typify not only the valor and achievements of the Army of Northern Virginia, but over them is shed the bright luster of Lee's pure spirit and spotless character, for they were his men, who suffered and achieved with him.
The luncheon was presided over by Commander J. D. Hamaker, of Stover Camp, C. V. Appropriate remarks were made by Comrades John Sperry of Middletown, C. M. Borum and others. Comrade Joseph Timberlake sang an old war ballad. ......
---
PHOTO GALLERY
My photo gallery in Strasburg is open every Wednesday. A. N. Carroll
---
PENCILAGRAPHS
Clarence E. Stickley, who recently returned to this community from Beloit, Wis., where he has been employed as a machinist for several years, has purchased the vacant Ritenour lot on Massanutten Street, lying between David Hupp residence and the C. S. Painter Ford supply store. He is planning and will begin immediately to erect a garage on this lot.
---
EMPIRE THEATRE

We take this means of thanking our patrons and the public of Strasburg and vicinity for the support they have given us during the past four years in conducting the motion picture business and to assure them that in the future, as well as in the past, our aims will be to give them the best service possible.

Our picture parlor, located on the 2nd Floor of the Shenando Building, gives you ample ventilation from both sides. This combined with newly installed electric fans, will ensure to our patrons at all times plenty of cool breeze and proper ventilation. The building conforms to all State laws governing Public Halls-- as to exits, fire escapes, etc. ensuring to our patrons the utmost safety.

During the Summer months our house will be open three evenings per week -- Mondays, Wednesdays, and Saturdays. Perfect order insisted upon at all times.

We have contracted with the Paramount Picture Corporation of Washington, D. C., for their famous plays, and can now offer the public better service than ever before.

We know of no better way to thank you for past favors and merit you future support than to say that, beginning last Monday, July 23, and until further notice our admission will be Five Cents to all. Again thanking and soliciting a continuance of your patronage, we are,

Yours to serve, Empire Theatre Management.
P. S. -- Watch this paper next week for the advertisement of our great Special Feature -- "Womanhood" -- 9,000 feet of film. Empire Theatre.
---
House Parties

A thoroughly enjoyable social event which was interrupted by the illness of the hostess on Sunday night was the house party given by Mrs. Arthur C. Stickley in honor of Miss Corinne Bruin. The guest began to arrive at the Stickley home last Wednesday, but on Sunday night Mrs. Stickley was taken ill, and on Monday the young people adjourned to Miss Bruin's home on the corner of Queen and Holliday Streets, where they will remain until the end of this week. Miss Bruin's guests included Misses Edythe Marden, Baltimore, Md.; Marion Olds and Vera Fritts, Front Royal, Va.; Namoi Harff, Riverton, N. J.; and Katherine Stickley, Vaucluse, Va. Messrs. Louis Kraus, Baltimore, Md.; Douglas Stickley, Stephens City, Va.; and Emmett and Terry English, Woodstock, Va.
Another delightful party is that in progress at the home of Miss Chrystie Estep at her home about two miles South of town on the Valley Pike. Miss Estep is entertaining a number of school friends, the guest beginning to arrive last Friday, and it is said all are so entranced with the big, wide porch, spacious lawn, and the shade of the many apple trees that they are loath to leave. Those present are Misses Chrystie Estep, Katherine Orndorff, and Nina Spengler; Messrs. Jacob Womack, Jetersville, Va.; Frank Fuller, Chatham, Va.; and Emery Hedgecock, Martinsville, Va. The guest will remain at the Estep home until the close of this week.
---
An accident which might have proven serious occurred Sunday evening about eight o'clock at the corner of Main and Massanutten Streets, where the Valley Pike turns at right angles, when a buggy, was struck and wrecked by an automobile. Both vehicles were going down the pike. The buggy was in front and the car was in the act of passing. About that time another car coming up the pike appeared and caused Dr. P. B. Stickley, the driver of the buggy, to turn over in front of the car which was attempting to pass. One wheel of the buggy was demolished, but the occupants, Dr. Stickley and his wife of Stephen's City, who had been visiting at the home of Mrs. Susan Stickley and Mr. and Mrs. F. K. Stickley, were uninjured. The car which struck the buggy was driven by some young folk from Winchester and Stephen's City, who would not give their names. However, the accident was almost unavoidable considering circumstances and the "Lay of the land," all of which impresses us with the thought that something should be done to prevent another and perhaps worse accident at this dangerous corner. Why not plant a post in the middle of the square and cause all vehicles to take the right hand side?
---
OPTICAL NOTICE

I will be in Strasburg Wednesday, August 1st, at Hotel Machir. Eyes examined. Glasses to order. Wm. Kline, Optometrist, Waynesboro, Va.
---
Wanted, Ten men for road and general work on county estate. Wages $2.00 per day. Steady work, nine-hour day in winter. Board 50 cents per day. Car fare furnished. Write M. G. Coplen,
Rockville, Md.
---
For Sale, 24 acres of limestone land located about 2 1/2 miles from Strasburg and within 3/4 mile of a macadam road. 8 room house in good repair, cistern, 50 apple trees and all necessary outbuildings on place. Apply George A. Ebersole, Real Estate and insurance, Strasburg, Va.
---
Lost, Between Oranda and Strasburg, girl's coat, mustard color, 16 year-old size. Finder please have same at News Office. Reward offered. H. M. Loving.
---
For Sale, One 5 h. p. 1915 model Pope motorcycle equipped with new tires and chains. Has just been completely overhauled and is practically as good as new. Apply Hugh G. Sonner, Strasburg, Va..
---
Calvin Sonner cal@shentel.net
---